This was my first month in Guwahati.
Lack of opportunities in my sleepy hometown Karimganj on the far-flung frontiers of Assam had prompted me and Bapi to make an arduous overnight journey, past the emerald hills and mist-riddled lakes of Meghalaya, to the city where the raging Brahmaputra and Lady Kamakhya reigned supreme.
The college admission was swift and uninvolved, and before long, I was there, still a couple of months shy of my sixteenth birthday, in an alien city.
Alone.
Missing Grandma and her indulgent pampering.
Maa and her love.
Bapi and his spoiling me silly.
Weeks flew fast.
And one lazy Saturday, when the girls and boys who lived in and around the city had disappeared for an indulging weekend at home, Arunima offered to join me for lunch. I had befriended her just a week back in the library. She was wonderful girl from Dibrugarh with a perpetual smile and hardly a care in the universe.
I heaved a sigh of relief.
Never had it earlier dawned on me that something as basic as having company for a meal was luxury.
Little things that hitherto I had taken for granted !!!
It was a nothing-to-write-home-about nondescript restaurant by the roadside. One of those nameless myriad that did brisk business just outside the university campus. All claiming to serve freshly cooked home style Assamese and Bengali dishes.
An ancient fan whirring above.
Soot-blackened walls that the owner must have stopped caring about many summers back.
Wooden tables weathered with age.
Battered benches that sat three comfortably, four when there was the frenzied lunch rush.
An old gentleman with a toothless grin appeared to take the orders.
There was no menu of course.
He rattled off the dishes of the day to us (The menu changes everyday, he reminded us with a whiff of pride) and stood waiting for us to confirm what we wanted.
For me the choice was easy, rice, aloo pitika (Arunima prodded me that it was mashed potato, Aah aloo bhate, I chuckled), musur dal and rui maacher jhol. For her, though I could not follow her Assamese completely, it was rice and chicken.
My food arrives.
Piping hot rice.
A watery dal, the cook for sure had run out of his lentil supplies this morning.
A sphere of aloo bhate, chopped onions and green chillies playing bo-peep through the mash.
And a machher jhol, though Bapi, I am confident, would have severely objected to the size of the fish slice, had the fishmonger in Karimganj carved out such a minuscule piece.
Then arrives Arunima's chicken and rice.
The chicken is slathered in a black paste, I observe, unlike any chicken dish I have ever savored.
Arunima catches the frown of disagreement on my forehead and proceeds to explain. This is Til diya Murgi, chicken in black sesame paste. Til diya Murgi is a delicacy for us. Come on, try a bite.
I hesitate. But then yield to her request.
The flavours explode on my taste buds.
Til diya Murgi. Country chicken. A generous slather of black sesame paste. The rage of peppercorn. The warmth of ginger.
This is comfort food at its sublime best !!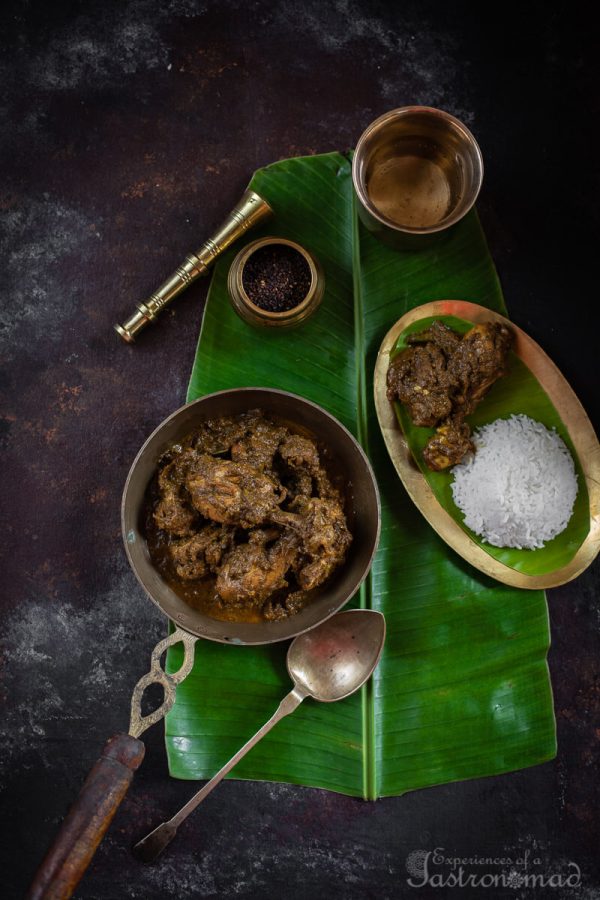 | | |
| --- | --- |
| | |
Make a smooth paste of black sesame seeds and black peppercorn with very little water. Keep aside.

Heat oil in a pan. When smoking hot, throw in the ginger, garlic and onions, saute till the onion is a gorgeous golden brown.

Now add the chicken, turmeric powder, cumin powder and green chilies, cook over a medium flame for 5-7 odd minutes.

Add ½ cup warm water, continue to cook over a medium flame till the chicken is about to 75% cooked, 10-12 mins I would say.

Add the black sesame and peppercorn paste, give it all a hearty mix. Splash a little water if it is becoming a bit too dry.

Cook till the chicken is tender, another 5 minutes or so.

Adjust seasonings. Serve hot with rice.