Pin
The bird sits on the gas stove, stewing merrily in yogurt perfumed with a melange of spices. A delicious aroma wafts from the kitchen. I brew myself a Darjeeling and sit down to scribble my notes against the doi murgi recipe from one of the ancient royal houses of Bengal that I have referred to this morning.
No tomatoes, possibly the acquaintance of Bengali cuisine with the alien biliti begun as tomatoes were called in those early years had yet not been fostered (??), the original had no garlic either (though I have allowed myself the liberty of adding in a tiny bit), a spartan abstinence from using either the ubiquitous cumin or coriander, whole or pounded and yes, I could not even imagine the indulgence of a cup of ghee (mine has a frugal, or should I say parsimonious, half a table spoon !!!)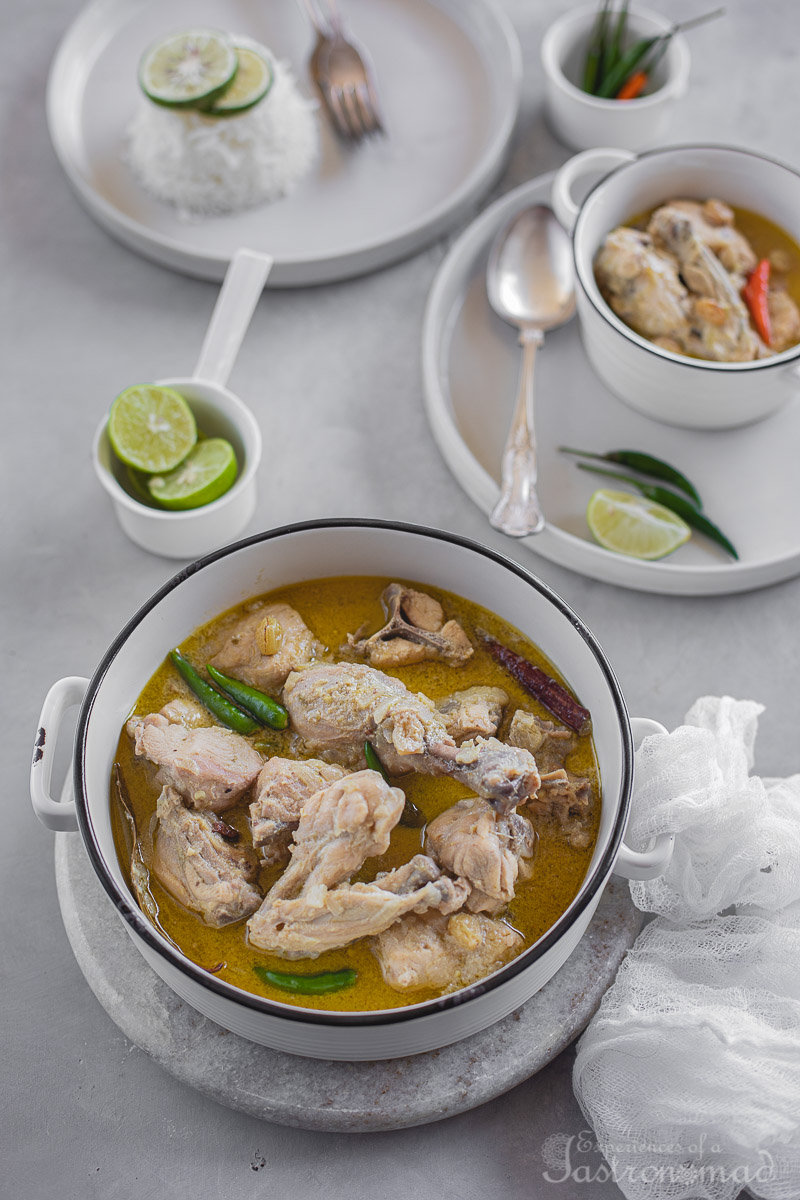 Pin
If you fancy whipping up a curry one of these days, whose recipe dates back possibly a couple of centuries, doi murgi is just the right one for you !!
AnSave
Save
Save
Save
Save
Save
Doi Murgi (Chicken in yogurt)
Chicken stewed in yoghurt perfumed with fragrant whole spices. Grated ginger, just a hint of garlic. And some plump raisins. Delectable !!
Ingredients
500

g

chicken

curry cut pieces

200

g

yogurt

whipped

1

tbsp

raisins

3

onions

finely chopped

1/4

tsp

garlic paste

2

tsps

ginger paste

2

tsps

green chili paste

3-4

green chillies

slit

1-2

bay leaves

2 - 3

green cardamom

1

one inch

cinnamon stick

2

cloves

3

tbsps

mustard oil

1/2

tbsp

ghee

1/4

tsp

garam masala powder

sugar

to taste

salt

to taste
Instructions
Marinate the chicken pieces with ginger-garlic paste and 2 tbsp whipped yogurt. Keep aside for 3-4 hrs.

Soak the raisins in water.

Heat oil and when smoking hot, temper with crushed cinnamon, cardamom, cloves and bay leaves. When the spices start to release their aroma, add the onions and fry till translucent. Now add the marinated chicken, green chili paste and a couple of slit green chillies.

Sprinkle in a little salt and cook over a medium flame for 5-6 minutes.

Add rest of the whipped yogurt and cook till the masala is cooked and oil starts to separate from the masala.

Add a cup of warm water, throw in the raisins; cook over a low flame till the chicken is tender. Add the sugar and adjust seasonings. Cook for another 5 odd minutes.

Finish with a generous dollop of ghee and a sprinkle of garam masala powder. Serve hot with rice.