So when my eyes greet the gorgeous shimmering silver parshe at the Manicktala fish market during my recent jaunt to Kolkata, I know at once what lunch this morning shall be.
The fish comes home.
I ruminating all the while, how to do justice to these stunning beauties. A parshe jhal may be ?
Maa spots me pottering about in her kitchen.
You cannot be cooking when you have come home for just a couple of days, she complains.
What's wrong with that ? I protest. Meekly.
But then, you never ever win a fight with a mother, do you ?
She has a vast repertoire of tricks up her sleeve.
And she wins. Expectedly. Yet again.
I nod my head in disbelief. That she still believes I am her little princess. And that the heat and the grime of the kitchen are not for me.
I resign.
Let me make you a tea at least. I plead. And, I add, almost as an afterthought, watch you cook.
Just as I would, a starry eyed teenager, in the ancient kitchen. In our house by the river in Karimganj.
I brew a jasmine tea. For me and her.
And stand, transfixed, watching her alluring magic in the kitchen.
And she doesn't cook the usual parshe jhal today.
You anyway do that very often don't you ? She queries. Not waiting though for my answer.
Let me do a Doi Mouri Parshe for you today.
Doi Mouri Parshe. Parshe (or mullets) in a pristine yoghurt sauce. Perfumed with the aromatic fennel. And just that hint of asafoetida. Another ancient Bengali recipe. From Maas kitchen.
Sublime !!!
Save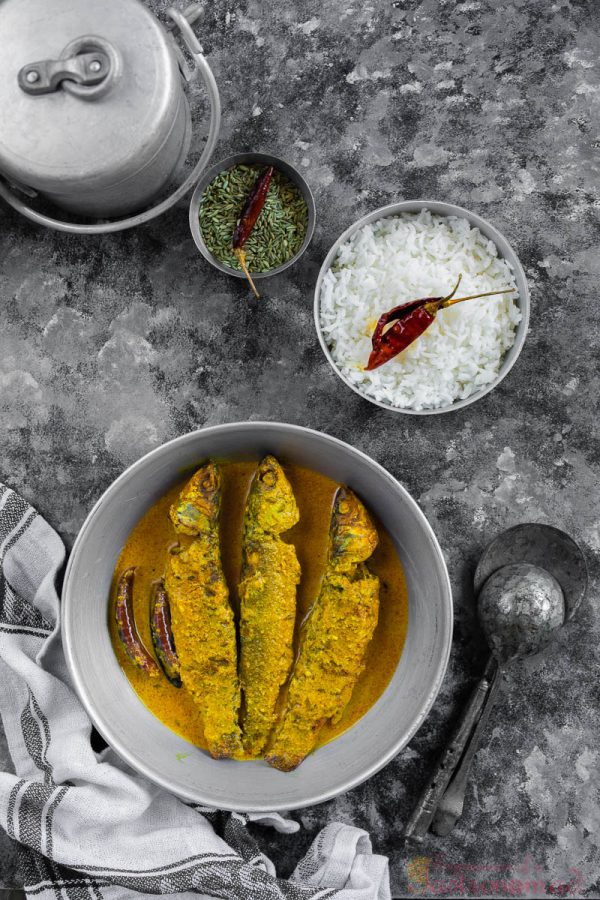 | | |
| --- | --- |
| | |
Marinate the fish with a generous pinch of salt and turmeric powder.

Heat ½ a tbsp of oil, add the fish and shallow fry till light brown. Keep aside on a kitchen absorbent towel.

In a small bowl add the turmeric powder, ginger paste, fennel seed paste and yogurt, mix well to form a smooth paste.

Add the remaining oil to the same frying pan. Add the pinch of hing, dry red chillies and bay leaves. Lower the flame, add the yogurt mix, give it a hearty stir and cook for 5-7 odd minutes.

Time now to gently add the fried fish, sprinkle in the sugar and add 1/2 a cup of warm water. (If you love the perfume of fennel as I do, feel free to add another tbsp of fennel seed paste at thus stage.) Bring to a gentle simmer, another 5minutes or so.

Adjust the seasonings and finish with a dollop of ghee and serve hot.