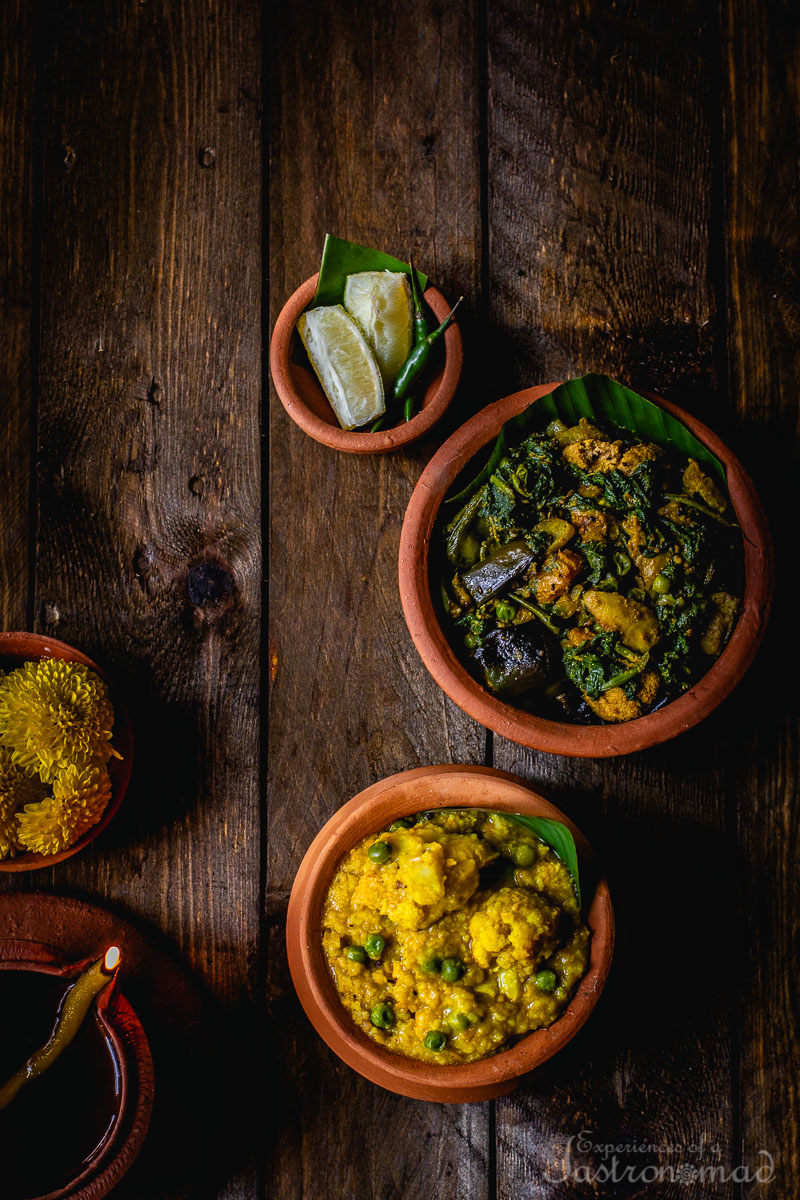 Pin
She is at her gorgeous best this evening. Resplendent in her new rani sari. Decked in her jewellery. Her silver owl polished to a dazzling shimmer.
I stand amidst the hullabaloo in the thakurghor. A little me lost in a crowd of grown-up faces. Busy in their universe of prayers and worship.
I look for things to do.
Back yet again to the alpana Grandma made with rice paste this afternoon.
And she allowed me to add those dots.
Isn't it beautiful ? I beam in innocent creator's pride.
The dots made the alpana so pretty, I am confident.
And make a mental note to flaunt to my friends in school tomorrow.
Bored with the alpana. I now try to find meaning in the sonorous chants of thakur moshai. In vain. I give up.
I must be hungry, I wonder as I smell the khichuri cooking away in the kitchen. Then longingly look at the tempting mound of gorgeous golden narkol narus Maa and Grandma laboriously prepared all morning. And unlike other days, they did not let Dada or me indulge on even one. That's not been fair, a suddenly annoyed me reminds myself.
Dhuno smoke has engulfed the room now. I can no longer see the crowd of faces. Or Her. Or Her owl. I close my eyes and take in the intoxicating fragrance of the the dhuno. My eyes still burn though.
Someone takes the dhunuchi out of the room. I move on. To counting the marigolds in the garland that adorns Her. Yellow. Orange. Yellow again. Orange again.
When suddenly my eyes rest on the owl. I now gawk at the owl on the cover of Maas lokkhi pnaachaali.
Impatient, fidgety, restless and not finding anything else to occupy myself with, I balance myself on one foot. Then put that foot down and try to balance myself on the other foot.
Maa pokes me. Hard.
I make a face.
She returns a frown.
I know I shall not win this contest.
Grandma comes to my rescue.
What did you wish for ? She asks me in a hushed tone.
That I be rich, I respond in a flash.
You never pray for wealth, Grandma asserts.
But you told me she is the Goddess of Prosperity and Wealth, I counter.
Yes, but you never ask for riches. Grandma patiently explains with a smile. You ask for health. And you ask for knowledge and wisdom. Wealth shall follow on its own.
Grandma does not make sense at times. Especially when she speaks in arcane riddles. Leaving me to untangle the knots.
This is one of those occasions.
I run to the window.
Outside on the expansive canvass of the clear autumn sky, the pristine full moon smiles.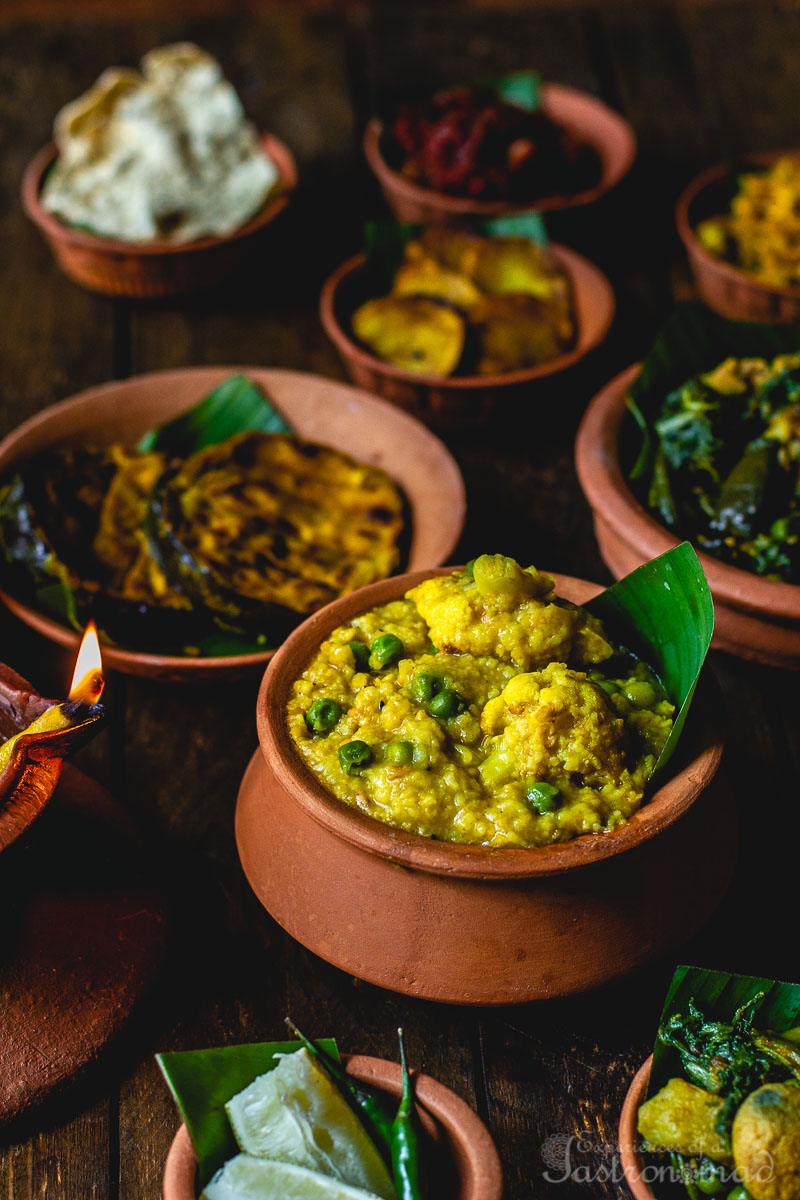 Pin
As I prepare for lokkhi pujo this evening, my khichuri and labra simmering on the stove, a stack of finely cut eggplant waiting to be dipped in batter and fried, I go back to kojagori lokkhi pujo of childhood, Grandma's allegories and metaphors, her philosophy and parables, (which I found incomprehensible as a child, but which became more and more relevant as I grew up) her divine khichuri and labra, her legendary narkol narus and her intricate alpanas.
Save
Bhoger Khichuri aar Labra
Moong Dal Khichuri / Khichdi with potatoes, cauliflower and peas. Perfumed with ginger and bhaja masala. And labra, spinach cooked with a medley of veggies.
Ingredients
For Khichuri
150

g

gobindobhog rice

washed

200

g

moong dal

1

medium sized cauliflower

cut into medium florets

3 quarters

potatoes

cut into cubes

1/2

cup

peas

2 - 3

dry whole red chillies

1

tbsp

ginger paste

2 - 3

green chillies

slit

2

tsps

turmeric powder

2

tsps

bhaja masala

2

tbsps

mustard oil

1

tbsp

ghee

Salt and sugar

to taste
For Labra
1

big potato

cut into medium cubes

1

small brinjal

cut into medium cubes

1

white radish

cut into medium cubes

1

medium sweet potato

cut into medium cubes

100

g

pumpkin

cut in medium cubes

100

g

sheem / broad beans

halved

1 - 2 2

Drumsticks

peeled and cut into long pieces

2

bunches

spinach

roughly chopped

2 - 3

red chillies

3

tsps

ginger paste

2

tsps

coriander powder

1 - 2

green chillies

slit

2

tsps

bhaja masala

2

tbsps

mustard oil

Salt and sugar

to taste
Instructions
For Bhoger Khichuri
Dry roast the moong dal till it gives out a fragrant nutty aroma and takes on a tinge of light brown. Remove from flame, rinse the dal in water and keep aside.

Heat oil in a frying pan, fry the cauliflower and potatoes till a gorgeous golden, keep aside.

Heat the remaining oil in a deep bottomed pan, add the red chillies and panchforon, when the spices start to splutter, add the green chillies and ginger paste, saute for a minute or two.

Now add the roasted moong dal and rice, turmeric powder and saute for a further couple of minutes. Add 3-4 cups of warm water, the water level should be about 2 inches above the rice and dal, bring to a gentle simmer.

Continue cooking till the rice and dal are about 60% done, now add the peas, fried cauliflower and potatoes. Sprinkle in the salt, cover and cook over a low flame, stirring occasionally, till the rice and dal are completely cooked. Add a little warm water if it's getting a bit too dry.

Adjust the salt and sugar, add a dollop of ghee and finish with a generous sprinkle of bhaja masala. Serve hot.
For Labra
Heat the mustard oil in a pan, when smoking hot, temper with dry red chillies and panchforon. When the spices start spluttering, add all the vegetables (barring the spinach) and saute for a while.

Now add the ginger paste, coriander powder, green chillies, a little salt and sugar, continue cooking over a low flame, till the vegetables become tender.

Now add the spinach, cover and cook over a medium flame, the spinach shall release quite some water. Continue to cook till the water starts to dry up, the vegetables become soft and almost mashed into each other.

Adjust the seasonings, finish with a generous sprinkle of bhaja masala and serve hot.
For Bhaja Masala
I usually stock up my bhaja masala - 3 bay leaves, 3 dry red chillies and about a third of a cup of cumin seeds, roasted patiently over a low flame and then ground to a powder. Stays fresh and aromatic for about a fortnight if kept in an airtight container.