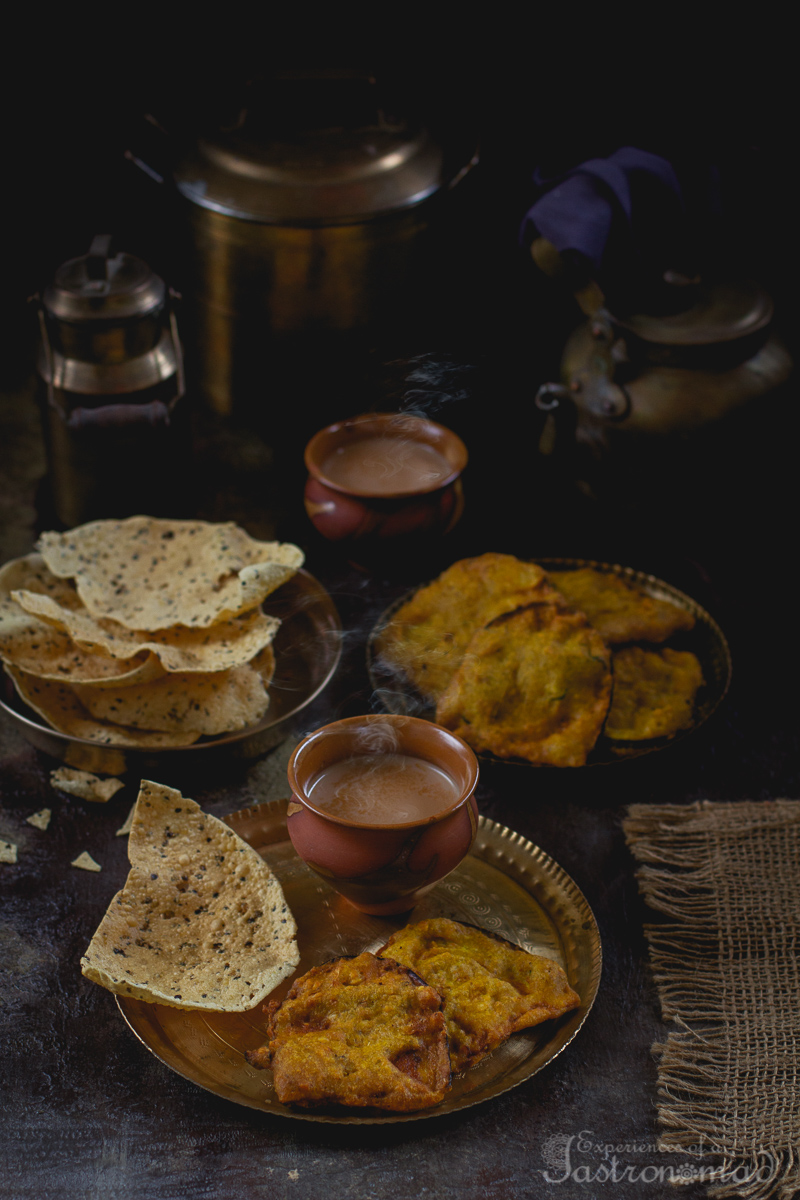 It's wistful nostalgia for me on this auspicious day of Rathyatra, the chariot festival when the Lord and his siblings are all set to take a jaunt to their aunt.
Memories of years gone by.
Of Puri and the Lord.
Of the rother mela in our sleepy town in Assam (annual fair on the grounds by the river on the occasion of Rathyatra) Maa would religiously accompany Dada and me to.
Where Dada and I took turns to aim at balloons, arranged in disciplined concentric circles on a faded no-longer-white backdrop, with a long-nosed antiquated gun.
And went round and round in a ferris-wheel inspired wooden contraption, pushed with youthful gusto by two barely-out-of-teens boys, till our heads spun dizzy and our stomachs belched with peals of laughter.
And gorged on beguni (eggplant fritters) and pnapor-bhaja (fried papadum), generously seasoned with salt.
It has to be beguni then to relive those honey-sweet childhood memories around Rathyatra.
Mind you, not the usual dipped-in-a-spiced-besan-batter beguni though.
Today it has to be Grandma's special beguni, reserved for only those rare celebratory occasions. Or when Dada and I begged her for them.
Eggplant slices encased in a moong dal paste. Spiked with ginger and chillies. Perfumed with fennel seeds. And fried to a sinful golden.
Guaranteed to light up your Rathyatra evening for sure !!!
Save
Save
Save
Save
Save
Save

| | |
| --- | --- |
| | |
Sprinkle a little salt onto the eggplant slices, keep aside.

Make a coarse paste of the moong dal with 2-3 green chilies and a little water.

Add the finely chopped ginger, remaining green chilies, fennel powder, turmeric powder, plain flour and salt to the dal paste. Splash a little water.

Whisk vigorously for 2-3 odd minutes to make a smooth batter of medium thick consistency. Add some more water if needed.

Add the ghee to the batter, give it a hearty mix.

Heat oil in a kadai. Dip the eggplant slices one by one into the batter and deep fry over medium heat till they turn a gorgeous golden. Allow to rest on a kitchen absorbent towel to soak any excess oil.

Serve hot. (With a cup of tea perhaps !!!!)