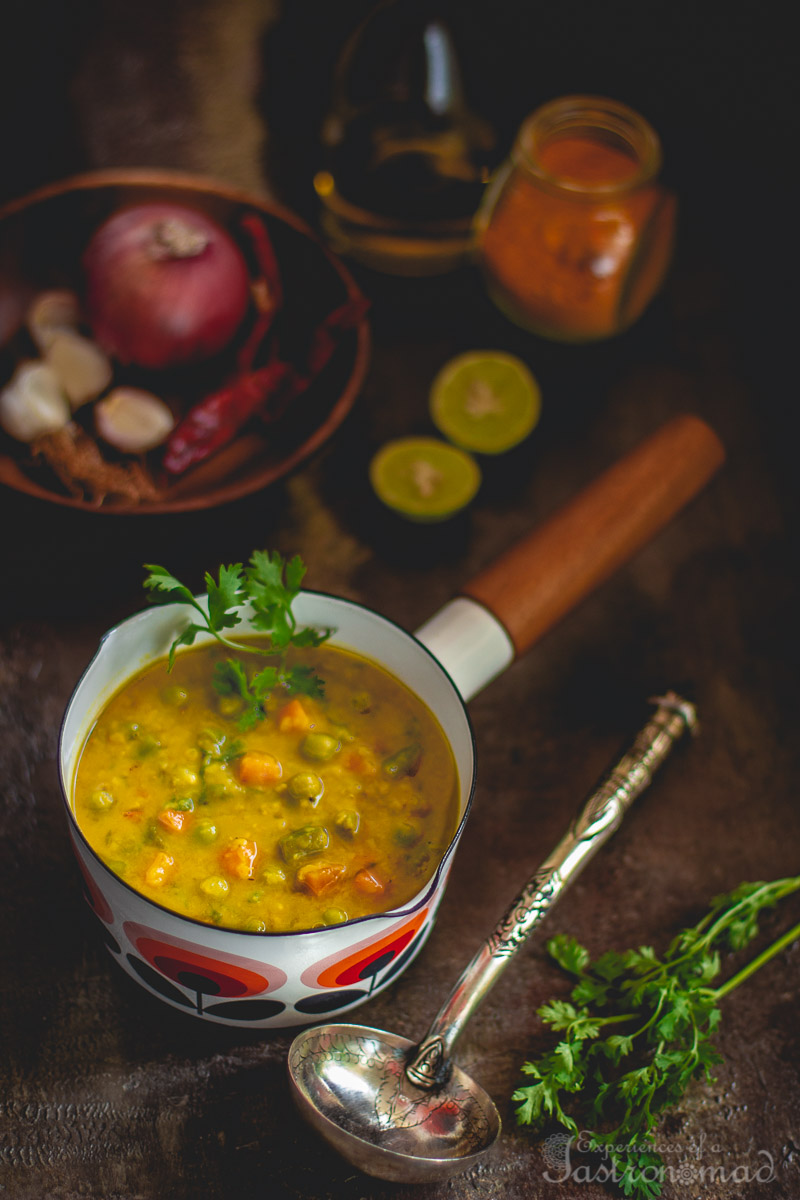 Bengalis love their dal. A lunch is never quite complete without a good hearty dal, typically masoor (red lentils) or moong (yellow lentils), accompanied by fried papad (yes, we rarely have it roasted) and a generous squeeze of lemon.
Red lentils are cooked in a myriad of ways. Usually non-elaborate and beguilingly simple. The fundamentals are always quite the same – pressure cook the soaked dal with a touch of turmeric, a sprinkle of salt and the heat of couple of fiery green chillies.
In its earthy incarnation, you just mash the pressure cooked dal and serve it with a dollop of ghee or a drizzle of mustard oil, spiked with green chillies and maybe a chopped red onion. Or you could temper the dal and the options are endless. Just a caress of whole cumin seeds. Or a punch of paanchforon. Or onions, chopped fine and fried to a gorgeous golden brown.
Here I cook the red lentils with vegetables, a kiss of cumin and coriander and the fire of chillies, inspired by the delectable Middle Eastern red lentil stew, again a family favorite of ours.
Save

| | |
| --- | --- |
| | |
Pressure cook the soaked dal with 2 cups of water, a sprinkle of salt, a pinch of turmeric powder and 2 green chillies.

Blanch the carrots, french bean and cauliflower florets. Keep aside.

Heat the mustard oil, temper with whole cumin seeds and dry red chilies.

When the cumin seeds start spluttering, add the onion and garlic and fry till the onion is lightly browned. Add the tomatoes and cook for a further 10 minutes on a moderate flame.

Add the turmeric powder, cumin powder and coriander powder and saute for a minute.

Add the pressure cooked dal, blanched vegetables and peas. Simmer gently for 5-6 minutes.

Add sugar and salt to taste. Serve hot with rice.