And there sits my bird, pretty and pompous, roasted to a gorgeous golden. Luscious and succulent. The piece de resistance of my festive dinner.
Winter vegetables in tow – a medley of mushrooms, shallots, potatoes and carrots. And a delectable pan sauce flavoured with garlic and thyme to tie it all together.
The Anglo Indian version of a classic Roast Chicken. Just as Mrs Baker would have done it !!!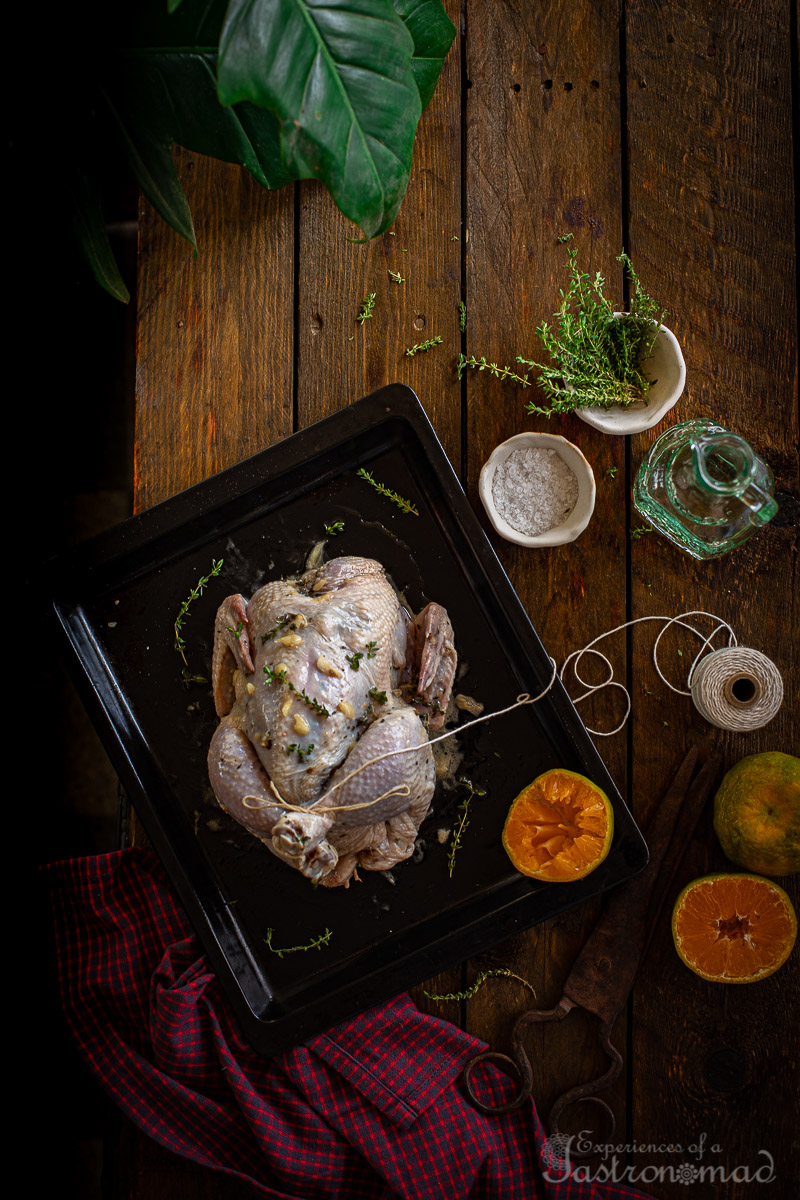 Roast Chicken. The Anglo-Indian way. Luscious and succulent. Winter veggies in tow. And a pan sauce flavoured with garlic and thyme to tie it all together. Enjoy!!
Save

| | |
| --- | --- |
| | |
Pre-heat the oven to 200 C.

Wash the chicken, pat dry.

Using a pestle and mortar, pound the (unpeeled) garlic bulb, thyme and 2 tbsp olive oil. Keep aside in a bowl.

Add the remaining olive oil and orange juice to the garlic-thyme mixture above, mix well.

Drizzle 2 tbsp of the flavoured oil all over the chicken, season with Kosher salt and black pepper, massage well. Rub the oil into the cavity of the chicken. Carefully lift the skin of the chicken and using your fingers, rub the oil gently onto the body of the chicken.

Refrigerate for 3-4 hrs, take the marinated chicken out of the refrigerator 30 odd minutes before cooking.

Place the orange halves inside the cavity of the chicken, seal the cavity with toothpicks.

Tie the legs of the chicken together loosely with kitchen twine.

Place the mushrooms, baby potatoes, carrots, onions and the peeled bulb of garlic on a roasting tray, drizzle 1 tbsp of perfumed olive oil over the vegetables, season with kosher salt and black pepper.

Place the chicken over the vegetables, drizzle the remaining flavoured oil onto the chicken.

Cover the chicken with an aluminium foil, place the roasting tray in the oven and roast for 20 minutes.

Remove the aluminium foil, turn the chicken cavity side down and roast for 20 odd minutes.

Turn the chicken again, cavity side up now, and roast for a further 20 minutes till the chicken is golden and the skin is crisp.

Switch off the oven, allow to rest for 15 minutes.

Carve the chicken, serve with roasted vegetables.