Pin
It's the afternoon before Sankranti.
The house is a cauldron of frenzied activity, the aroma of nolen gur and freshly harvested rice wafts from the kitchen.
Maa and Didi are in the kitchen, the chirer doodh puli rest patiently in the reduced milk soaking up all the decadent goodness, the gokul pithe are waiting to fried and the sweet potatoes are being mashed for the ranga alur puli that we all adore.
Grandma is in the dalaan, seated on the red oxide floor, surrounded by a confusion of strands of hay and ears of paddy, that I saw Manikkaka get home this morning.
She now picks up 3-4 strands of hay from the floor and her nimble fingers start braiding them together.
They look so pretty, I exclaim, holding one up to have a closer look.
Grandma smiles. Get me a sheaf of paddy now. She requests.
Grandmas deft hands weave the inflorescence of paddy, with its numerous gorgeous golden spikelets, into the braid of hay.
Do you want to decorate these any further ? Grandma asks me.
Of course, I exclaim.
See if Manik can pluck some mango leaves from the tree.
I am elated. Being allowed to run errands is one of the indications of being treated as a grown up and I am delighted being granted access to this exclusive club that till now has been Dada's monopoly.
Supremely excited, I almost trip as I get up and run to find where Manikaka is.
8-10 leaves is all I need, I hear Grandmas voice fade as I go looking for Manikkaka in the garden.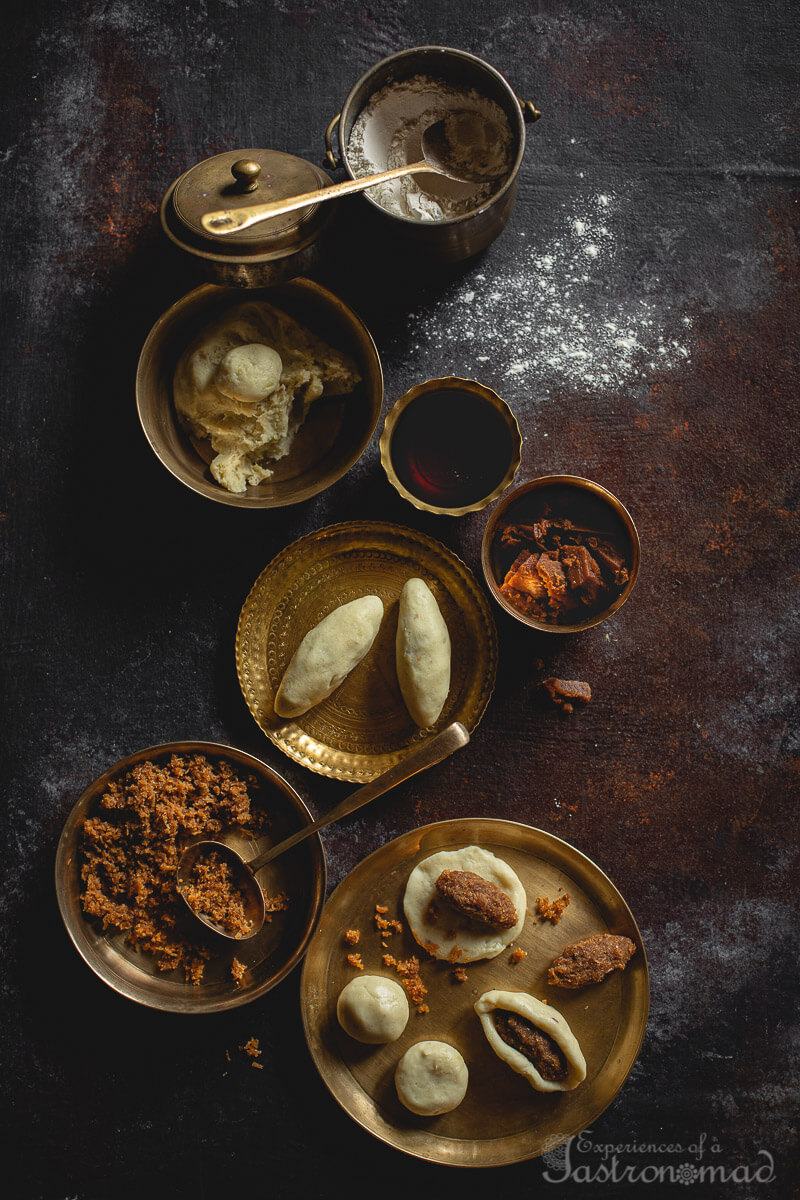 Pin
(What's wrong with plucking more leaves ? Dada and I challenge Grandma years later, now familiar with botany, the magical world of photosynthesis and the tantalizing miracle of the ascent of sap.
Why ? Grandma rebuts, why pluck leaves when you have no need for them ?
Dada and I look at each other, struggling to refute Grandmas logic.
And what was an arcane riddle decades back is a philosophy of life now.
Why keep adding on material possessions when there is not even a whiff of real need, is something S and I are furiously passionate about)
I return, panting for breath, the mango leaves clutched in my hands.
The mango leaf now becomes the backdrop on which the braid of hay and paddy spikelets snugly rest.
What about a knob of turmeric ? Grandma looks at me.
I nod in agreement, ecstatic that my views are being considered in assembling this adorable bouquet.
I think we could end with some flowers, couldn't we ? I saw the radish abloom this morning.
I don't wait for Grandma to finish, I dart out to the garden.
The cheerful yellow radish flowers, now woven to the braids, make the hay strands look exquisite and gorgeous.
And that evening, as the sun prepares to retire for the day and a myriad shades of crimson light up the twilight sky, Grandma and Maa go from room to room tying the charming braided strands of hay, adorned with all the pretty embellishments, on every door latch, chest and cupboard door.
"আউনি বাউনি চাউনি/তিন দিন কোথাও না যেও/ ঘরে বসে পিঠে-ভাত খেও।'  They recite in tandem, the words are incomprehensible to me, but the sing-song lyrical intonation makes me burst into giggles.
Come on, repeat after us, Grandma exhorts.
Pin
Sankranti, Bapi explains later in the day as we relish the delectable Ranga alur puli Maa had made, is the festival of harvest. A tribute to the bounty of Mother Nature. An occasion to express our gratitude to our farmers who work tirelessly to grow all the produce, they are key to our nation's prosperity and progress.
And those strands of hay that Grandma and Maa tied to the doors, Bapi continues with a smile, are to ensure prosperity and wealth stay locked with all of us and we continue to be blessed by the generous benevolence of Maa Lokkhi.
Ranga Alur Puli. Sweet potato dumplings stuffed with a delectable mixture of coconut and jaggery. Fried to a gorgeous golden. Dipped in a sinful patali gur syrup.
Divine !!!
Ranga Alur Puli
Ingredients
For the outer coating
300

g

sweet potatoes or ranga alu

1/4

cup

rice flour

1/4

cup

plain flour
For the Stuffing
1.5

cup

coconut

freshly grated

1/2

cup

khejur patali or date palm jaggery

1/4

cup

milk

optional
For the Jaggery Syrup
2

cups

water

1

cup

khejur patali or date palm jaggery
Instructions
For the Stuffing
Place a heavy bottomed pan over a medium flame, add the freshly grated coconut and jaggery, cook, with frequent stirring, till the jaggery is well incorporated into the coconut. 7-10 minutes I would reckon. Now gently pour the milk, continue to cook till the milk has almost dried up.

Allow to cool to room temperature. Keep aside.
For the Jaggery Syrup
Heat the water and jaggery in a pot for about 15-20 minutes till you get a nice golden syrup.

For the Outer Coating
Boil the sweet potatoes till soft. Peel, mash well.

Add rice flour and plain flour to the mashed sweet potatoes, knead well to make a smooth dough, taking care that there are no lumps.

If it is too soft, feel free to add some more plain flour. Add in small increments, too much flour shall make the coating too hard.
Assembling the Ranga Alur Pulis
Now take a dough ball on your palm, press it gently in the middle using your thumb forming a small oval cup. Place a small portion of the coconut mixture in the middle of the cup. (As shown in the picture)

Very gently bring the edges of the dough cup together to cover the stuffing and give it a oblong shape. As in the picture. Repeat for the rest of the dough.

Heat oil in a deep bottomed pan. Fry till golden. Keep aside on a kitchen absorbent towel.

Soak the fried pulis in the warm jaggery syrup, 20-30 minutes or so. Remove from syrup. Serve.