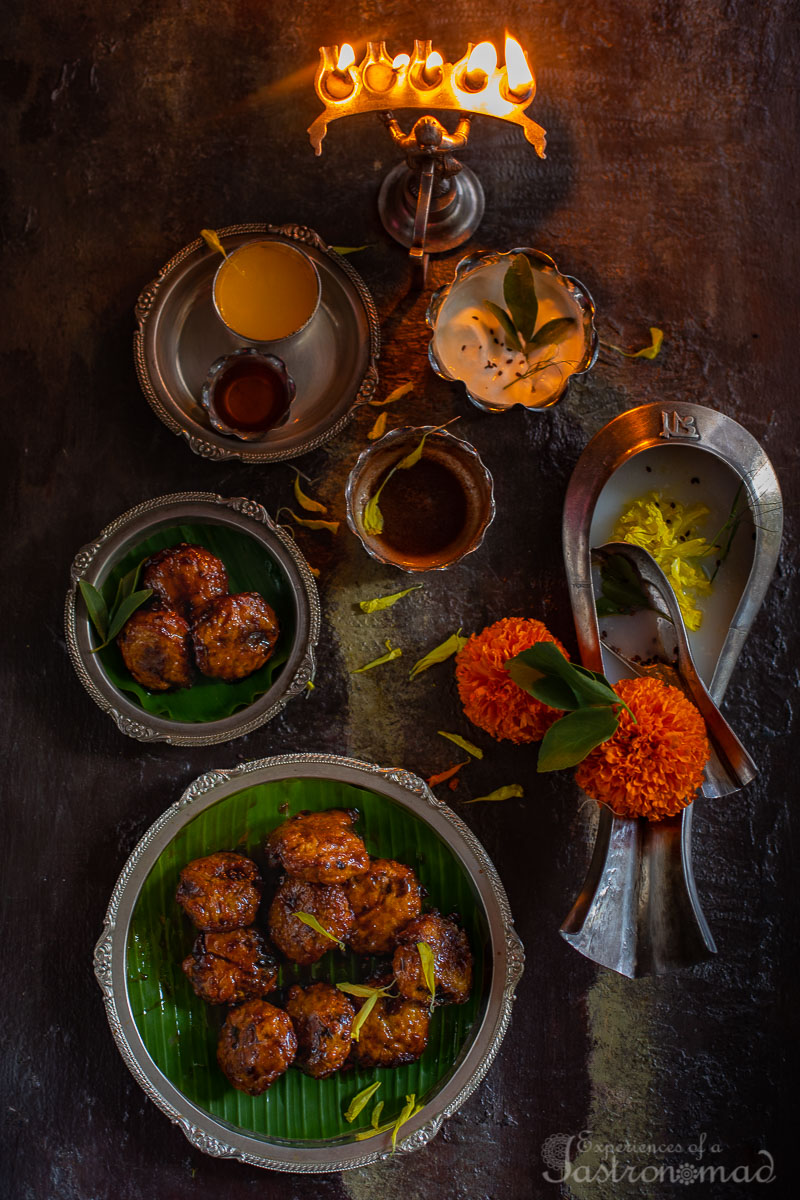 Pin
2019 marks the 286th anniversary of the Durga Pujo at the Sheorafuli Rajbari.
Folklore suggests, Debi Shorbomongola appeared in Raja Manohar Roy's dream and asked for her worship to be started.
The next morning, exactly as the Goddess had indicated, a gorgeous Oshtodhatu (made of eight precious metals) Durga idol was indeed found at the pond excavation site.
The pious Raja was overwhelmed with joy and worship of Debi Shorbomongola started in Sheorafuli.
Debi Shorbomongola is worshipped as Maa Durga during the auspicious days of Durga Pujo.
There are significant highlights of this ancient Pujo – Maa Durga is not accompanied with her four children, her vahana Singha (lion) has the face of a horse and of course the idol is not immersed in the adjoining Hooghly (only the ghot and Kolabou are immersed in the ageless river)
Animal sacrifice was stopped after a member of the family received an instruction from the deity. Annobhog is not offered.
Today in the eighth post of my Mahabhog series I recreate Rajeshwari, a unique sweet offered to Goddess Shorbomongola during Durga Pujo, following the exact steps detailed to be by Mrs Tapati Ghosh, a daughter-in-law of the Rajbari.
I am extremely grateful to Mr Ashish Ghosh and Mrs Tapati Ghosh for allowing me to share this heirloom recipe.
Sheorafuli Rajbarir Rajeshwari. Dumplings of jaggery, coconut and khoya. Just a whiff of green cardamom. Fried to a gorgeous golden. Dipped in a jaggery syrup. Decadent. This indeed is food heaven !!
Pin
If you are keen to learn what is served to the deity in the various bonedi barir Pujo as part of their bhog, do stay tuned for more !!
And if you haven't already, here's my posts on what's in the bhog offered to Maa Durga.
1. Shibpur RoyChowdhury Barir Kolar Borar Payesh
2. Sabarna Roy Choudhury Barir Pui Chingri
3. Chorbagan Chatterjee Barir Niramish Bhetki Maacher Ghonto
4. Bhawanipur Nandan Barir Chandrapuli
5. Girish Bhawan er Chhanar Kalia
6. Rani Rashmoni Barir Perakir Payesh
7. Shovabazar Rajbarir Pokanno

PS – Please do not reproduce the content without appropriate permission.
Sheorafuli Rajbarir Rajeshwari
Sheorafuli Rajbarir Rajeshwari. Dumplings of jaggery, coconut and khoya. Just a whiff of green cardamom. Fried to a gorgeous golden. Dipped in a jaggery syrup. Food heaven !!
Ingredients
For the stuffing
1.5

cup

coconut

freshly grated

1/2

cup

jaggery

grated

100

g

khoya or milk solids

1/4

tsp

green cardamom powder
For the syrup
1

cup

water

3/4

cup

jaggery

grated
Assembling the Rajeshwaris
3/4

cup

plain flour

a pinch of

salt

1/2

cup

ghee

oil

for frying
Instructions
Place a heavy bottomed pan over medium flame, add the freshly grated coconut, khoya, green cardamom powder and jaggery, cook, with frequent stirring, till the jaggery is well incorporated into the coconut. 7-10 minutes I would reckon until it becomes a bit sticky but still moist.

Allow to cool to room temperature. Take small portions out of it and form medium sized discs. Keep aside.

Take flour in a bowl, add water to it, whisk well to form a thick batter, ensure there are no lumps. Keep aside.

The recipe calls for frying only in ghee, I have taken the liberty to add half a cup of ghee to my frying oil.

When the oil-ghee mixture is hot, take coconut-jaggery discs, one at a time, dip into the batter till it is generously coated and release gently into the hot oil. Fry till golden. Keep aside on a kitchen absorbent towel.

Repeat for the remaining discs.

Heat the water and jaggery in a pot till you get a nice golden thick syrup.

Soak the fritters in the hot jaggery syrup, cook further till the fritters are coated by the syrup. Serve warm.