Another mist-mysterious winter morning. I walk into my kitchen, an infant sun playfully projecting a kaleidoscope of images on the whitewashed wall, to brew myself a cuppa.
What do I cook today ? I ruminate. Foraging the kitchen.
That's when my eyes rest on the luscious oranges. And my tubes of nolen gur.
Can I pair the two – plump oranges with divine nolen gur ? That's like playing a matchmaker, I smile at myself, how challenging can that be ?
That's when I decide to infuse the perfume of nolen gur into my orange cake.
Out come the pots and pans.
The flour and the eggs.
Of course the oranges and the nolen gur.
And before long proudly in front of me, the alluring aroma of baking playing riot with my olfactory senses, stands my orange cake with the sinful nolen gur.
My nolen gur and orange cake. The earthy sweetness of nolen gur perfectly complementing the tartness of the oranges. Moist and decadent. Redolent of winter. Enjoy !!!
Save
Save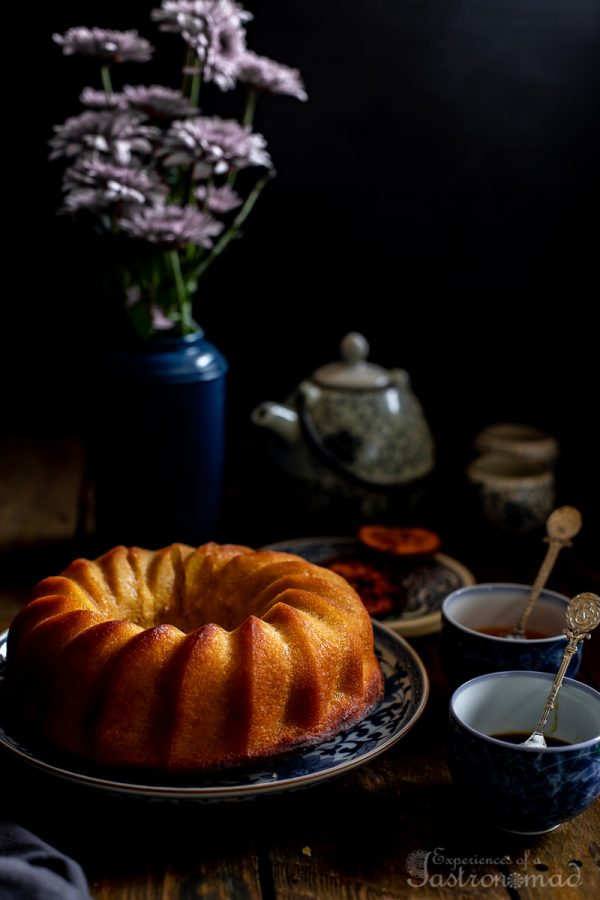 | | |
| --- | --- |
| | |
Preheat the oven to 180C.

Add the nolen gur to the orange juice, mix well. Keep aside.

Sift the flour, baking powder, baking soda and salt to aerate the dry mixture. Keep aside.

Take the oil and butter in a second bowl, mix well. Add the eggs, one by one, beat well till smooth and fluffy.

Add 1/2 a cup of orange juice - nolen gur mixture, mix till well incorporated.

Add the dry mixture to the wet batter, 2 tbsps at a time, beat well to mix.

Add the orange zest, fold gently with a wooden spatula.

Pour the batter into a greased bundt cake tin, bake at 180C for 25-30 minutes or till a skewer inserted into the center of a cake comes clean.

Allow the cake to cool, pierce the cake all over with a skewer. Drizzle the remaining orange juice - nolen gur syrup over the cake.

My nolen gur - orange cake is ready to serve.