Pin
Sunday is bliss. Lazy let's-snooze-once-more mornings. Idle time-stops-still evenings. Out of turn siestas.
Teas, Coffees and Conversations. Taking in that heady smell of the pages of a new book that has just arrived by post. Unwrapping that CD thats waited long to be played. Staring at the twilight sky. Feeling the rain on the face. Going back to childhood.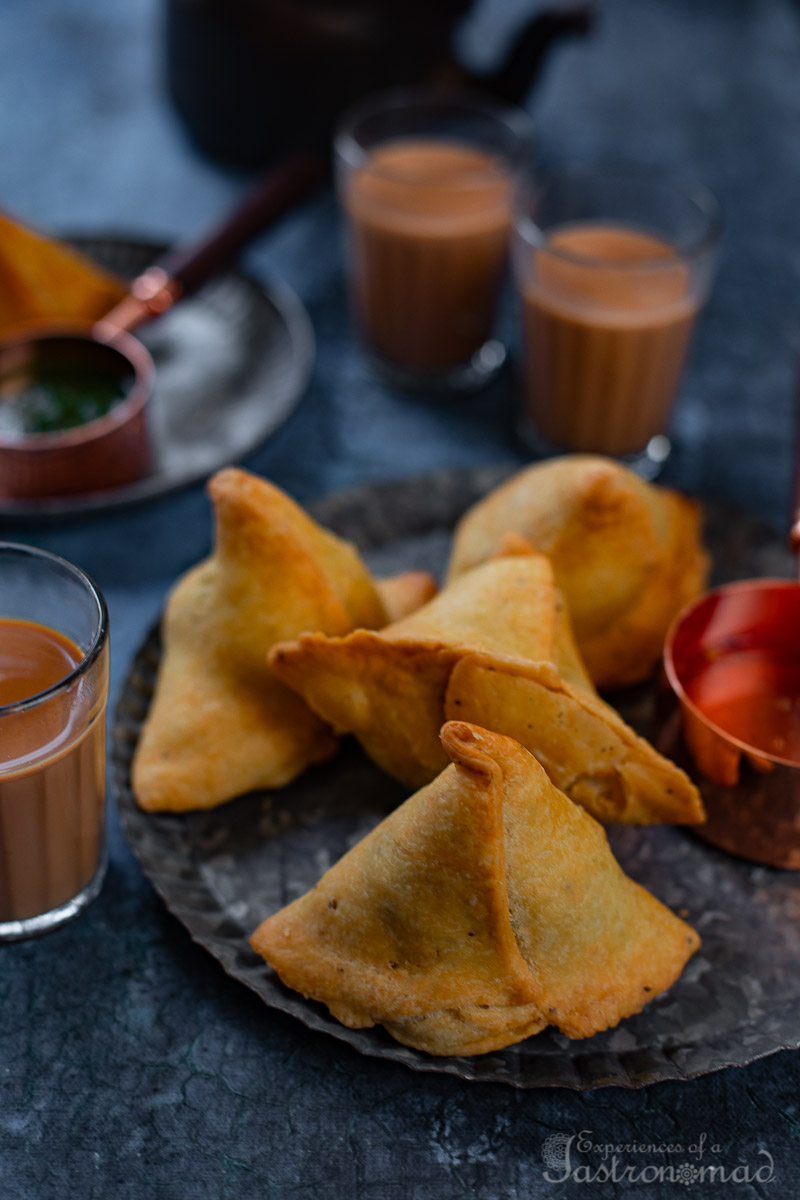 Pin
Letting nostalgia reign.
And what better way to jazz up the evening with this sinful and piping hot straight-out-of-the-kadai mishtir dokaner singara and cuppas of masala chai ?
Just as Sunday teas used to be decades back in Karimganj.
If you love singaras as much as I do, do try my baked phulkopir singara.
Pin
Mishtir dokaner singara . Sinful spicy potatoes. The crunch of peanuts . Hint of sweetness from plump raisins . Deep fried . Bliss !!
Mishitr Dokaner Singara
Mishtir dokaner singara . Sinful spicy potatoes. The crunch of peanuts . Hint of sweetness from plump raisins . Deep fried . Bliss !!
Ingredients
For the Stuffing
4-5

big sized

potatoes

not peeled, cut into small cubes

1/3

cup

coconut

cut into small pieces and finely sliced

1/4

cup

peanuts

dry roasted and skin removed

3

tbsp

raisins

soaked in water for 15 minutes

1

tsp

cumin seeds

1/2

tsp

asafoetida or hing

2

tsp

ginger paste

1

tbsp

green chillies

finely chopped

1/2

tsp

turmeric powder

2

tsp

Bengali bhaja masala

3

tbsp

vegetable oil

salt

to taste

a pinch of

sugar
For the Singara Cases
2.5

cup

plain flour

2

tbsp

ghee

1/2

tsp

salt

oil for frying
For Bhaja Masala
1/4

cup

cumin seeds

3

bay leaves

2-3

dry red chillies
Instructions
For the Stuffing
Heat the oil in a pan, fry the coconut slices till golden. Remove from oil, keep aside.

Into the same oil, throw in the cumin seeds and hing, allow the spices to splutter.

Now add the potatoes, sprinkle in the salt and turmeric powder, saute for 5-7 minutes over a high flame.

Stir in the ginger paste, add the green chillies, cook over a medium flame for another 5-7 minutes. Add 1/2 cup warm water and cook till the potatoes are just tender. (You don't want the potatoes to be over-cooked and mushy) and the water has almost evaporated.

Add the fried coconut, peanuts and raisins to the potatoes. Give it a hearty mix.

Adjust seasonings, finish with a generous sprinkle of bhaja masala. Keep aside.
For the Singara Cases
Take the plain flour in a mixing bowl, sprinkle in the salt, add the ghee and 2 tbsp oil. Mix well till it is well incorporated into the flour.

Make a well in the flour, add 1/3 cup of warm water. Gently mix the water and flour and start kneading with your fingers.

Gradually add more warm water as needed till the dough becomes firm but soft and pliable when rolled. Cover with a damp cloth for 30 odd minutes.

Divide the dough into medium balls, using a rolling pin, roll out each dough ball to an oval shape. (for detailed steps with pictures please check my Phulkopir Sinagara Recipe)

Cut the oval diagonally. Brush the edges with a little water. Bring the straight edges gently together to form a hollow cone.

Hold the cone in your hand, fill it with potato stuffing.

Now press the open mouth of the cone and give it a double fold to seal it. Your singara is now ready to be fried.

Heat the oil and ghee over a low flame till just warm. (Take care to not over-heat the oil. If the oil is very hot, the outside of the singaras shall brown very quickly while the inside shall remain uncooked.)

Fry the singaras till golden brown on all sides, carefully turning them in between. It takes 20-25 odd minutes to fry a batch. Remove from oil, keep aside over a kitchen towel.
For Bhaja Masala
I usually stock up my bhaja masala. Take all the ingredients and roast them patiently over a low flame and then grind to a fine powder. Bhaja Masala stays fresh and aromatic for about a fortnight if kept in an airtight container.
Notes
For detailed steps of how to shape a sinagra , please check the recipe link of phulkopir sinagra . 
Please make sure that you start frying the sinagras in just warm oil and not hot oil. Allow the hot oil to cool down to room temperature before you fry the next batch.
Make sure your dough is stiff yet pliable but not very soft.