Weekends, at least for the first few months of my stay in Guwahati, were lacklustre and uninspiring.
No frenzied getting ready in the mornings so as not to be late for the first class.
No pottering around in labs.
No onerous assignments that needed long hours in the ancient library in the campus.
And hardly any friends too to while away time with, most of them had, on Friday afternoon, made a furious dash to board the earliest bus that would ferry them home. For a weekend of bliss.
And it was these lazy time-stops-still afternoons that I did miss home.
Grandma and her indulgent pampering.
Maa and her love.
Bapi and his spoiling me silly.
So when Dipika invited me to accompany her home, a village about three hours from Guwahati (the monsoons though might have made stretches of the road utterly intractable, she had alerted) for a long weekend, I responded in the affirmative in a flash.
So off we went. On a rain-drenched August afternoon.
And before long, the concrete cityscapes gave way to pristine verdant greens of the sylvan Assam countryside. Punctuated by tranquil ponds. Overrun by pompous pink lilies. And the occasional immaculate white one.
And then, all of a sudden, twilight smothered the day and descended night.
I don't recollect when I must have dozed off. At Dipikas nudge, next stop we get off the bus, I woke up with a start.
Uncle and Aunty made me immediately feel at home. And Dipika and her brother were brimming with innocent enthusiasm to show me around. Braving the nagging drizzle.
Thats the gnarled guava tree I had spoken to you about. And can you spot the hole in the trunk where the resident owl lives ? She grins.
And this is the mango orchard, the sweetest mangoes on the planet I can guarantee.
And here is the pond. Where I have spent countless summer afternoons splashing around silly. Does she not look surreal in the darkness ?
And shhh there are the ducks. Deep in slumber.
Back home, Aunty lays out a delectable Assamese spread for dinner. Finger-licking delicious.
I have my first taste of khar. Aunty reads my expression, it takes a while to get used to the taste, she smiles.
A tenga of Rohu (caught in our pond this morning, Dipikas brother observes) and outenga (plucked off the tree in the backyard, he reminds)
Chicken cooked with tender bamboo shoots.
But it's the last dish that leaves me speechless. My taste buds are left enraptured, ecstatic with indescribable pleasure.
Koldil Murgi, Dipika explains with pride, Banana flower paired with chicken. And no one cooks it better than Maa.
Banana flower is one of my favourite vegetables, almost a weekly fixture in our kitchen in Karimganj.
And I have had banana flower cooked in a myriad ways – Grandma's Mocha Ghonto. Shredded banana flower cooked with daler bora (lentil dumplings) and chhola (black gram). Redolent of home-made ghee. Sublime.
Maa's Mocha Chingri. Banana flower paired with shrimp. Heavenly.
But this is the first time I have had Koldil Murgi and need I reiterate that I am delighted. Whosoever conjured pairing banana flower with the bird was indeed a maverick genius.
Koldil Murgi. Country chicken. Earthy banana flower. The warmth of ginger. The aroma of whole spices.
This is Assam !! This is soul food !!!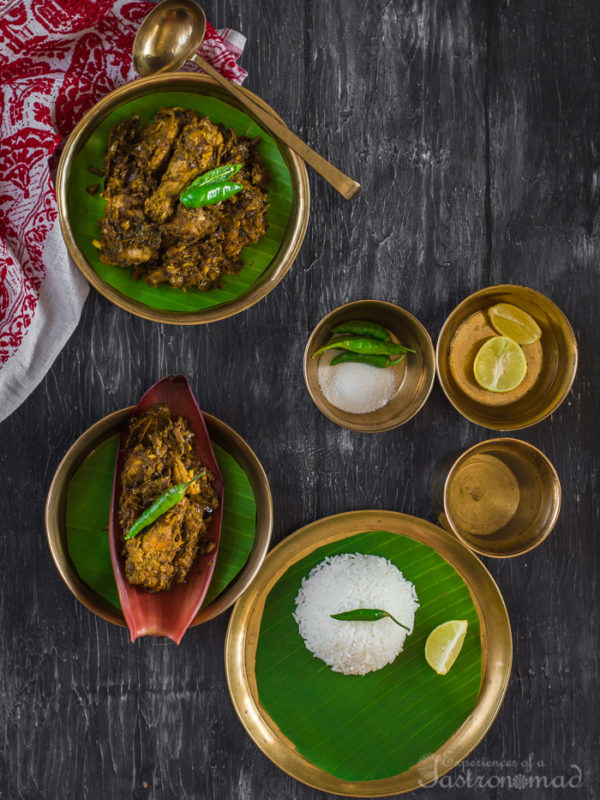 | | |
| --- | --- |
| | |
Marinate the chicken with 1 tsp ginger paste, garlic paste, lemon juice and a little salt. Refrigerate for 2-3 hours, even better if the chicken can be left to marinate overnight.

Boil the chopped banana flowers in salted water for 5-7 minutes. Drain from water, squeeze out any excess water, keep aside.

Heat 2 tbsp oil in a pan. When smoking hot, throw in the bay leaves, crushed cloves, cinnamon and green cardamom. Allow the spices to release their aroma.

Add the onion paste, the remaining ginger paste, green chili paste and saute till oil starts to release from the masala.

Now add the marinated chicken, turmeric powder, coriander powder and red chilli powder, cook over a medium flame for 5 odd minutes.

Throw in the banana flowers, give it a hearty mix and continue to cook over a medium flame till the chicken becomes tender, 15-20 mins I would say. Splash a little water if it is becoming a bit too dry.

Cook till chicken is tender. Serve hot.