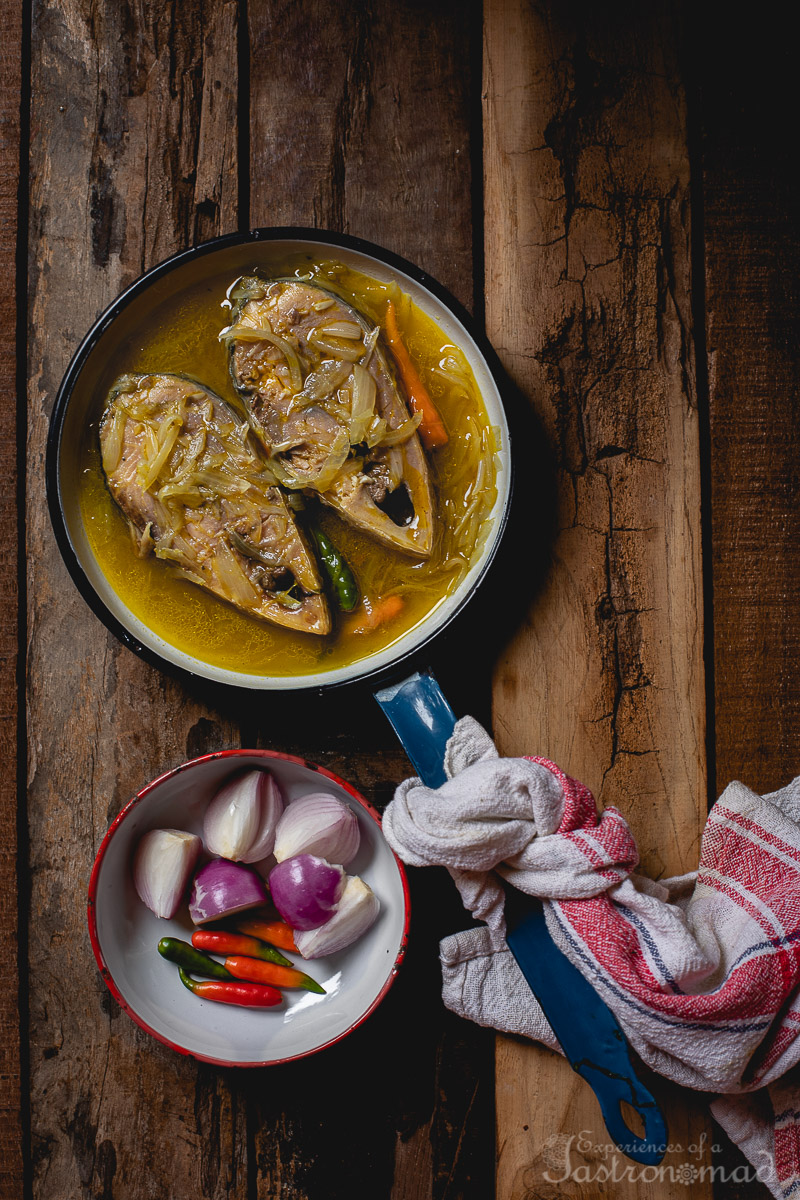 I have often mused about the East Bengal – West Bengal divide when it comes to food.
And contrary to popular belief, it's hardly the cliched ones (if you have an East Bengal lineage, you cherish your Ilish, whereas if your family has always been on this side of the Radcliffe Line, you are biased towards chingri) that are stark.
It's the subtle and delicate ones though that can still be the cause of consternation.
As I realized this morning.
S and I are both experimental about food. He savors his kochur shaak as much as I have grown to relish my biuli dal and posto.
So it's quite a rarity when our kitchen, eclectic and all-embracing, stands witness to the culinary divide between the two Bengals.
S returns home from his weekly sojourn to the fish market, therapeutic as he claims it to be, grinning like a kid who's just stumbled upon a booty of candies.
It doesn't take long for me to comprehend the reason.
He's brought home a gorgeous diva, a pristine silver ilish, shimmering even in the diffused sunlight that filters in lazily to the kitchen.
So obviously the conversation veers towards what to make of this amazing beauty.
The Doi Ilish, Shorshe ilish, Doodh Ilish, Ilish Tel jhol do the usual rounds.
It's been a while we haven't had anything novel with Ilish, S tells me, a hint of complaint in his voice.
What about a Ilish Shukto, I ask.
Did we not have that last month, he reverts. Fidgeting with his phone.
I chuckle.
Anarosh Ilish ? I provide another option, something which, I assume, should tick the novelty tag. Only to realize there's no pineapple at home.
And then it strikes me.
What about Ilish Panikhola ? I ask, slightly diffidently.
What ? He replies, obvious he hasn't savored this Bangladeshi delicacy.
It's an earthy Ilish stew, popular in rural Bangladesh, especially when your Ilish is straight off the fishing boats.
He doesn't respond.
It's a rustic fish stew, I continue patiently, a handful of coarsely chopped onions, some mean green chillies and a generous glug of mustard oil.
I see his reaction change in an instant, a not-too-pleasant frown dislodging the composure.
Ilish with onions ? He asks as if to convince himself he has heard me incorrectly.
Why not ? Comes my retort.
That's sacrilege. He replies in a flash. Never. Nodding his head violently.
Pairing Ilish with onions is definitely not unheard of in the East, I try to reason.
Well so be it, he says with a shrug, not for us in the West please.
The battle of the East and West, yet again, I sigh.
Try it once, I appeal, it's a very delicate balanced dish, the onions shall in no way overwhelm.
Na na, he objects, firm in his view that Ilish and onions can never be twinned.
Well, I nevertheless cook an Ilish Panikhola for myself, desperate to get S to at least try it. (While he silently whips up his favorite Ilish begun jhol.)
An ominous silence reigns.
Punctuated by the pitter-patter of raindrops on the window pane.
We sit down for lunch.
Try a bite, I coax him, you anyway have your jhol to fall back upon.
A tiny morsel.
A spoon of the stew.
A hesitant bite.
And the moment of truth.
The reaction changes.
From the annoyance-replete furrowed brows to neutral.
And then to a sublime smile that chases the cloud of gloom away.
This is genius, he proclaims. Such a simple yet clever dish.
And as an afterthought adds, One that definitely deserves a place in your blog.
Ilish Panikhola. A rustic Ilish stew. Yes, with coarsely chopped onions.
I can see the cynicism in your eyes already.
As I experienced with S.
Well, he became a convert.
I am sure you shall love it too.

| | |
| --- | --- |
| | |
Take the chopped onions in a mixing bowl, add 3 tbsp of mustard oil, green chilies and a little salt. Give it all a hearty mix for 7-8 minutes or so. The onions will slowly become little pale in colour. Keep it covered for 10 more minutes.

In a flat pan, make a bed of the above onion-chilies-mustard oil mix. Switch on the flame and cook for 2 or 3 odd minutes.

Gently place the Ilish steaks on the onion bed. Cook over low flame for 3-4 minutes.

Add ½ a cup of warm water, cover the pan, cook over a medium flame for 7-8 minutes.

Adjust seasonings, finish it off with a generous drizzle of mustard oil. Serve hot with steamed rice.