Pin
The second day of lockdown and I wake up to a world of uncanny calm.
No noxious fume-belching yellow school buses this morning.
Neither do I catch a fleeting glimpse of the newspaper boy as he furiously cycles to his next destination.
MS SubbaLakshmis Vishnu Sahasranama wafts from one of the floors above.
Punctuated by the raucous whistle of a pressure cooker somewhere below.
A pair of love-struck bulbuls chase themselves silly.
I brew myself a coffee (yes, not my favourite Darjeeling, who knows how long the lockdown shall last, S had rued earlier this morning. Let's be frugal on our Darjeeling supplies) and settle to read the morning paper, albeit on the Internet.
The next couple of hours go by in a rush.
The floors desperately need a mop, the books need to be returned to their shelves, the plants need to be watered, the laundry needs to go in and the dishes, idling in the kitchen sink since last evening, need to be done.
And by the time I am done, it's already past noon.
I dart to the kitchen.
There are no vegetables in the refrigerator.
My initial pangs of panic-stricken nervousness overcome yesterday, I am calm and collected today though.
Left-over dal. Egg curry. And piping hot rice.
That's what lunch shall be.
And it shouldn't take long to cook.
I take out the eggs, the last batch since our dinner last evening (omelette, smeared with ketchup, cocooned between two toasted slices of bread) and now reach out for the onions and garlic.
And then it strikes me.
There are no onions left.
Did you use up all the onions ? I ask S a trifle irritated.
Did I ? S responded, lost in thought.
I see no point pursuing the conversation further – in his quest to make omelettes last evening, he must have used up the last surviving onions in the pantry.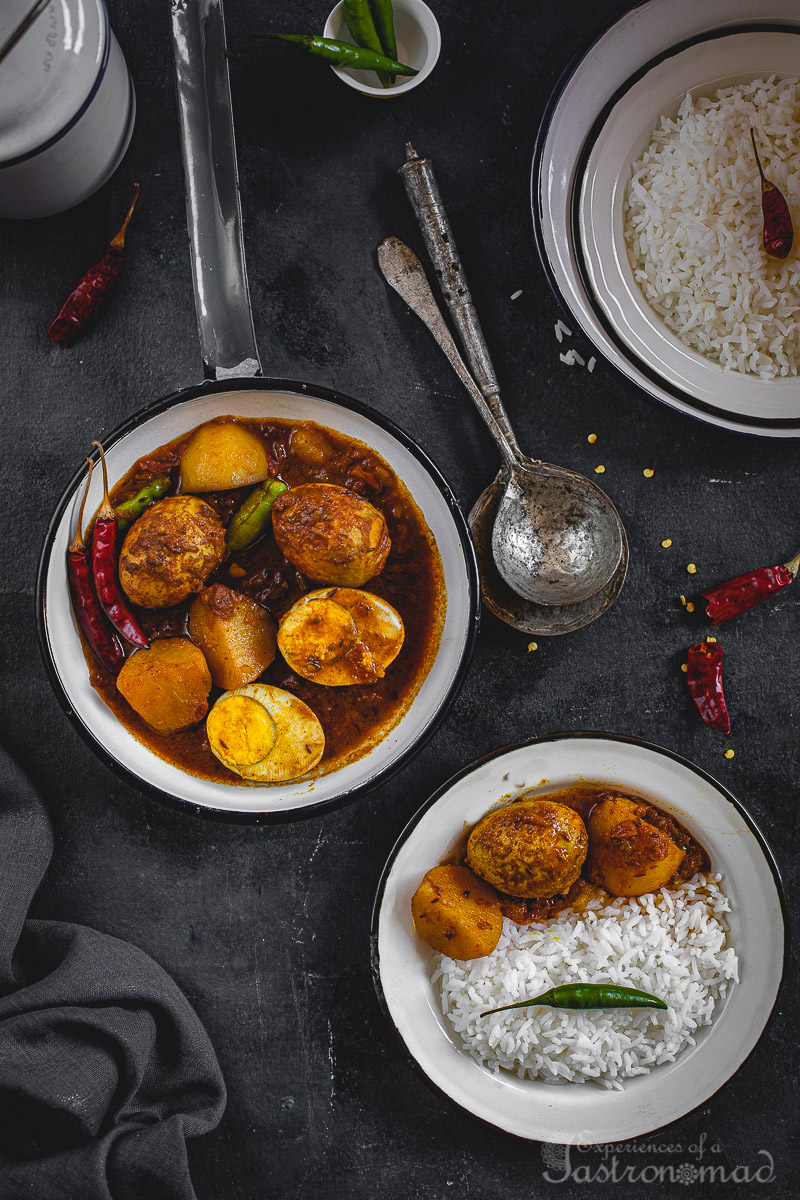 Pin
Egg curry without onions ? Panic attack again.
Momentary though.
As the idea of Dimer Hingi strikes me in a flash.
Maas panacea when onion prices would sky rocket.
The Dimer Hingi gets done in a jiffy.
S, stealing a quick break in between calls to have his lunch, is all praise.
Who cares for onions now ? He says in jest.
Dimer Hingi. Farm Eggs. No onions. No garlic. The perfume of ginger. The heat of chillies. And that sublime whiff of asafoetida. Divine !!
Dimer Hingi (Egg Curry with Asafoetida)
Dimer Hingi. Farm Eggs. No onions. No garlic. The perfume of ginger. The heat of chillies. And that sublime whiff of asafoetida. Divine !!
Ingredients
6

eggs

hard boiled

2

potatoes

cut into quarters

2

tomatoes

finely chopped

1

tsp

ginger paste

3-4

green chillies

slit

2

dry red chillies

2

bay leaves

1/2

tsp

whole cumin seeds

1/2

tsp

asafoetida or hing

1

tsp

turmeric powder

1

tsp

red chilli powder

2

tsp

cumin paste

freshly ground

2

tbsp

mustard oil

1

tsp

ghee

1/4

tsp

sugar

salt

to taste
Instructions
Smear the eggs with a pinch of salt and turmeric powder. Using a sharp knife, make slits in the eggs, keep aside.

Heat 1 tbsp oil in a frying pan, fry the potatoes light brown. Keep aside on an absorbent towel.

In the same oil, fry the eggs till golden, keep aside.

Add the remaining oil in the pan, throw in the cumin seeds, bay leaves and red chilies. Allow the spices to splutter.

Add the chopped tomatoes, sprinkle a little salt, cook over a medium flame till the tomatoes become tender.

Add the ginger paste, cumin paste, sprinkle in the turmeric powder and red chilli powder, cook over a medium flame till oil starts getting released from the masala.

Now add the eggs and potatoes, stir for a minute or two. Add ¾ cup of warm water, allow the curry to simmer till the gravy thickens to your desired consistency.

Adjust seasonings. Switch off the flame.

Heat ghee in a small pan, add the hing, stir till a nice aroma is released. Carefully pour over the egg curry. Give it a hearty stir. Serve hot with steamed rice.