Pin
As soon as my eyes rest on the plump prawns fresh from the Bay this rain-blessed cloud-cloaked overcast Saturday morning, I know in a flash I want comfort food, something to accompany my bowl of steaming hot rice !!!
A fitful mind of mine flirts with a bouquet of options, entranced by the halcyon morning calm, interrupted only by the light drizzle caressing the earth, a soulful Vishnu Sahasranamam wafting in from I-don't-where and the melancholy cooing of a pair of drenched doves.
And even before I revert from my reverie, I have thrown into the pressure cooker a handful of potatoes (need I remind you yet again of the love of us Bengalis for the starchy tuber ?), enough onions to instigate my lacrimal glands to a feverish overdrive, a melange of succulent tomatoes, carelessly quartered, an explosion of green chillies and a fragrant profusion of coriander leaves and shoots. And the prawns of course. Finished with a hedonistic splash of mustard oil.
Back again to the bay windows and the rains. The serene and the tranquil. MS. Kishore Kumar and Rafi. The plaintive birdsong.
Time has lost its will to run.
The rude cacophony of pressure cooker whistles and the heady aroma of prawns shake my lazy senses out of stupor. I dash to the kitchen. Turn off the gas.
My chingri batichorchori is ready. The rice can wait. I can return to the rains again.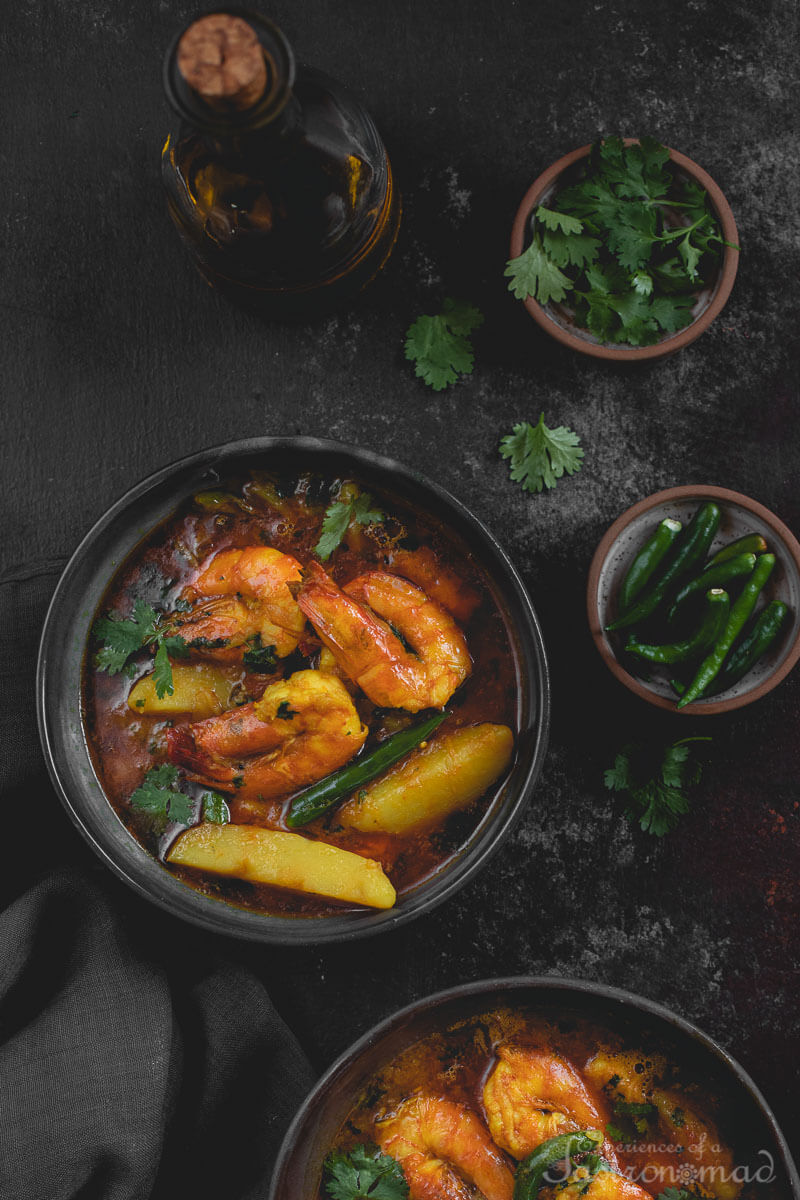 Pin
Yes, cooking a chingri batichorchori is really that silly and simple !!! The next time you yearn for soul food, you do know what recipe to reach out for.Save
Chingri maacher bati chorchori (Prawn curry, Bengali style)
Chingri batichorchori, prawns, potatoes, load of onions and tomatoes, an explosion of chillies and coriander leaves. Finished with a splash of mustard oil.
Ingredients
200

g

medium sized prawns

deveined

1

potato

cut into long slices

3 - 4

onions

finely sliced

1

tomato

roughly chopped

1

tsp

turmeric powder

1

tsp

panchphoron

6 - 7

green chillies

slit

5

tbsps

mustard oil

a bunch

coriander leaves

chopped

1/2

tsp

sugar

salt

to taste
Instructions
De-shell and clean the prawns carefully, keeping the heads and tails intact. Smear the prawns with a little turmeric and salt.

Heat 1 tbsp of mustard oil in a pressure cooker till smoking hot. Cool the oil. Add the prawns and fry till light golden (be careful not to over fry the prawns). Keep aside. (If your prawns are fresh enough, there is no need to fry them.)

Add another 2 tbsp of the oil to the same pressure cooker, sprinkle in the panch phoron and allow to splutter. Throw in the chopped onions, potatoes, tomatoes, green chilies, coriander leaves, the remaining turmeric powder and salt.

Cook for 2-3 minutes and add 2 cups of warm water. Bring to a simmer, add the fried prawns, sugar and adjust seasonings.

Cover and cook, 1 whistle, definitely no more than 2. Switch off the flame and allow to rest.

Garnish with chopped coriander leaves, a drizzle of mustard oil and serve hot with rice.