Pin
The first day of the lockdown and we were thoroughly under-prepared.
We knew it was coming, we were rather desperate that it be imposed, however when it did finally arrive, we wished we had a day to stock up essential supplies.
The refrigerator had no vegetables.
The freezer had the last batch of shrimps.
The online mart that was meant to deliver fish that day had already put up a notice profuse with apologies, no delivery till they sorted their delivery models and supply chains.
The first thought that struck me was one of utter despair – what do I cook ?
But necessity, as the old men say, is indeed the mother of invention.
So after that initial biting sting of frustration and nervousness, descended the calm.
And it took just a moment to plan the lunch – Piping hot rice, a masoor dal tempered with panchforon and a chingri bhorta.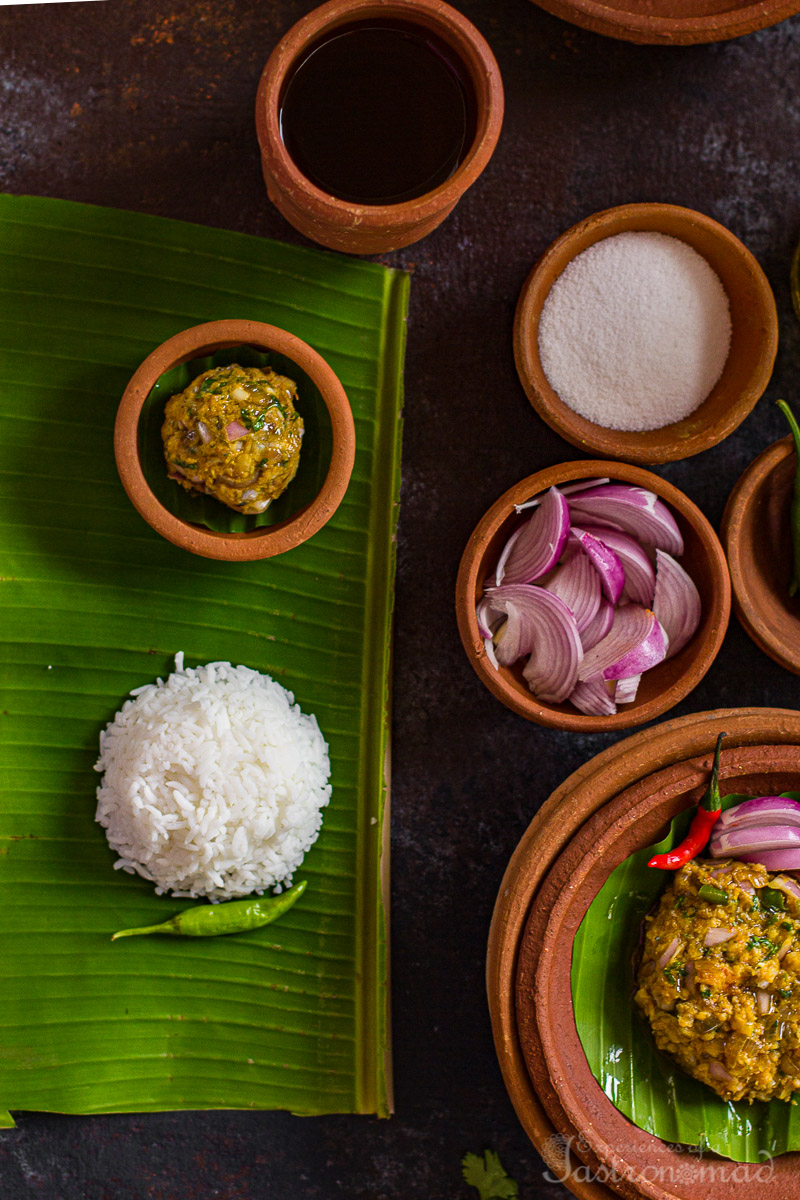 Pin
It was only after I was done with the cooking that my eyes caught the shrimp heads, waiting in a desolate corner of the kitchen counter waiting to be disposed.
But today was not a day to waste anything at all.
So out came the kadai, (despite having completed the cleanup of the kitchen post my cooking !!) went in a measured spoonful of mustard oil and the shrimp heads followed.
By the time the heads came out, they were a sinful gorgeous golden. Crispy and packed with delicious flavour. A sprinkle of salt and they were ready for the table.
And I have no qualms in sharing that I even relished that left-over oil with hot rice. (Try it, its divine !!)
Chingri Bhorta. River shrimps. Sautéd and coarsely mashed. A throw of finely chopped onions. A handful of wicked chillies. A glug of mustard oil. And food heaven for sure !!
And before I forget, do not discard those shrimp heads if you are making a chingri bhorta.
Fried to a sinful golden in some chilli-spiked mustard oil, they are drop dead gorgeous. I do see that cynicism in your eyes, but try it once and you shall be a convert forever.
Chingri Bhorta
Chingri Bharta. River shrimps. Sautéd and coarsely mashed. A throw of finely chopped onions. A handful of wicked chillies. A glug of mustard oil. And food heaven for sure !!
Ingredients
12-15

medium sized prawns

de-shelled, de-veined and heads removed

3

onions

1

tsp

ginger

finely chopped

7-8

green chilies

finely chopped

1/4

cup

corinader leaves

finely chopped

1/4

tsp

turmeric powder

1/2

tsp

lemon juice

2.5

tbsp

mustard oil

salt

to taste
Instructions
Roughly chop the prawns into small pieces. Marinate with a little salt and turmeric powder. Keep aside.

Heat 1.5 tbsp oil in a pan, add the ginger, half the chopped onions and 3-4 green chilies. Fry till the onions catch a tinge of golden brown.

Now throw in the prawns, saute till just cooked. Take care to not overcook the prawns. Remove from flame, allow to cool to room temperature.

Keep aside half the cooked prawns in a mixing bowl.

Blitz the other half in an electric blender to a coarse paste.

To the same mixing bowl, now add the coarsely ground prawns, coriander leaves and the remaining onions and green chilies. Give it all a hearty mix. Mash gently with the back of a ladle.

Adjust seasonings. Throw in more green chilies if you like the heat. Finish with a generous drizzle of mustard oil and a squeeze of lemon. Serve with piping hot rice.