Pin
It was in 1860 that Raja Ramachandra Chatterjee and his wife Durgadasi started Durga Pujo in their premises in Chorbagan.
To know more about the Chorbagan Chatterjee Barir Durga Pujo, read this inspiring post by Subhadip on his blog.
The Goddess here is offered a delectable spread of vegetarian and non-vegetarian dishes and an array of sweets, all of which are cooked by male members of the Chatterjee family. A custom that's religiously adhered to to this very day.
On Shoptomi, the deity is served Lau Chingri (Bottlegourd cooked with Shrimps), Shaaker Ghonto (A mishmash of spinach and vegetables) graces the bhog on Oshtomi, Bhetki Maacher Niramish Ghonto and Chingri Malaikari are the piece de resistance for Nobami.
On Doshami, Maa Durga is only offered dishes cooked the evening before (yes, you read it right, nothing fresh !!!), panta bhaat (Fermented Rice, Bengali style) (yes yet again if you have been following the series !!) and Ilish Macher Ambal (Hilsa in a sweet and sour curry) being the key highlights.
In this post, the third of my Bonedi Barir Mahabhog series, I recreate Bhetki Maacher Niramish Ghonto, following the exact steps as shared by one of the members of the family.
Bhetki Maacher Nirmaish Ghonto. A mellifluous pairing of our favourite Bhetki Maach with a melange of autumn vegetables. No onions. No garlic. Earthy yet finger-licking delicious.
An heirloom recipe of the Chorbagan Chatterjees, offered to the Goddess on Nobami.
And I am grateful to the family for allowing me to share this with my readers.
Enjoy !!!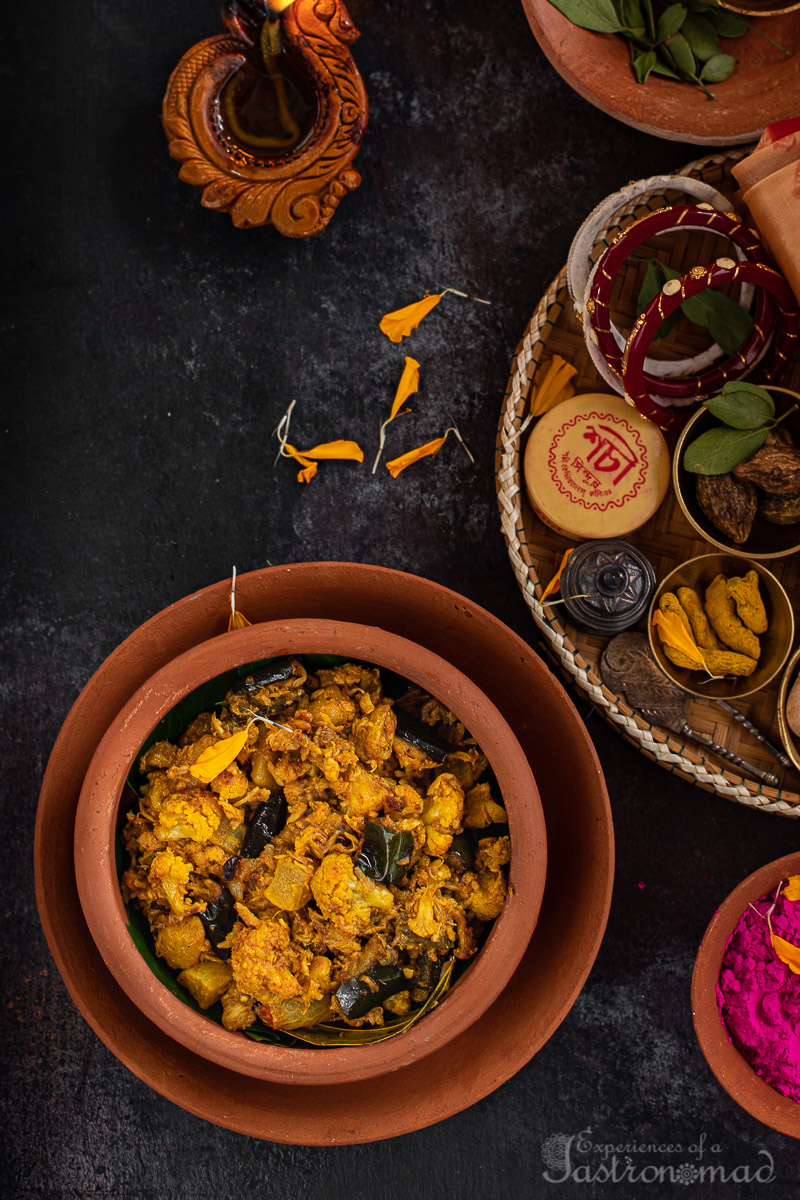 Pin
If you are keen to learn what is served to the deity in the various bonedi barir Pujo as part of their bhog, do stay tuned for more !!
And if you haven't already, here's my posts on whats in the bhog offered to Ma Durga by the Shibpur RoyChowdhury and Sabarna Roy Choudhury families.
1. Shibpur RoyChowdhury Barir Kolar Borar Payesh
2. Sabarna Roy Choudhury Barir Pui Chingri
PS – Please do not reproduce the content without appropriate permission.
Chorbagan Chatterjee Barir Bhetki Macher Niramish Ghonto
Bhetki Macher Niramish Ghonto. A mellifluous pairing of our favourite Bhetki Maach with a melange of autumn vegetables. No onions. No garlic. Yet finger-licking delicious. Enjoy !!!
Ingredients
4

pieces

bhetki or sea bass

3/4

cup

potato

cut into small cubes

3/4

cup

cauliflower

cut into small florets

3/4

cup

mulo or radish

cut into small cubes

3/4

cup

eggplant or brinjal

cut into small cubes

1/2

cup

yoghurt

whipped

1/2

tbsp

ginger paste

2

tsp

cumin paste

freshly ground

2-3

bay leaves

1

tsp

turmeric powder

2

tsp

red chili powder

1/2

tsp

garam masala powder

3

tbsp

mustard oil

2

tbsp

ghee

sugar

to taste

salt

to taste
Instructions
Marinate the fish with a little turmeric powder and salt.

Heat 1 tbsp mustard oil in a pan, shallow fry the fish. Allow to cool to room temperature. Debone the fish, lightly mash and keep aside.

Heat the remaining mustard oil and 1 tbsp ghee in a separate pan. Throw in the bay leaves.

Add the potatoes, radish and cauliflower florets, sprinkle in the the turmeric powder, red chilli powder and salt, stir fry over a high flame for 4-5 minutes. Now add the eggplant, continue to stir fry over a medium flame for another 5 odd minutes.

Stir in the whipped yoghurt, add the ginger paste and sugar, give it all a hearty mix. Continue to cook till all the vegetables are tender.

Add the fish, give it another hearty mix. Cook over a low flame till almost dry.

Adjust seasonings. Finish with a dollop of ghee and a pinch of garam masala powder. Serve hot.